Hailey leaders on Monday considered a first set of recommendations from Mayor Martha Burke and the Community Development Department as to how they might invest $500,000 into the construction, acquisition and preservation of affordable housing stock.
The Hailey City Council previously approved the half-million-dollar commitment on Sept. 12 as part of the city's $21.65 million 2022-2023 budget. The new fiscal year starts Saturday, Oct. 1.
The goal of Hailey's draft "housing action plan" is to assist residents who have been priced out of the local housing market due to rent increases and other factors related to a mismatch between supply and demand, according to Hailey City Administrator Lisa Horowitz
"This is the first time in the budget, really in the history of the city of Hailey, that this council made a financial commitment for housing. It's a landmark moment," Horowitz told the council.
Community members will have the chance to float new solutions and provide feedback on the draft "housing action plan" over the course of several upcoming council meetings and workshops in the fall, she said.
An upcoming workshop is also scheduled at City Hall on Wednesday, Oct. 5 at 5:30 p.m. to take a look at Ketchum's "Lease to Locals" pilot program, which aims to pair homeowners with potential tenants by offering cash incentives to rent out their homes to qualified employees.
"We've had a lot of interested members from the Hailey community wanting to become involved with 'Lease to Locals.' And it's working in Truckee [California]," Burke said.
Hailey's draft housing plan proposes the following actions:
Adopting an official "Housing Policy Statement" outlining housing goals.
Building a strategic plan based on a needs assessment conducted by the Community Development Department.
Buying tax-exempt "Employer Notes," or housing bonds between $120,000 and $150,000 that would allow the city to place an employee or employees in two- to three-bedroom units for the next 10 years.
Buying up to two deed-restricted units for city of Hailey employees and working out a property management and oversight plan.
Continuing to pass new zoning ordinances to promote a wider variety of dwelling types.
Contributing $25,000 in seed money to Ketchum's "Lease to Locals" program.
Creating a $50,000 employee housing stipend for housing-burdened city employees, which would distribute up to $400 per month in rent assistance per qualified employee.
Defining what a "healthy" balance between market-rate units and community housing units would look like. (Community housing refers to units that are deed restricted, rent-restricted or permanently restricted by the federal government through "Section 8" or voucher programs.)
Designing a program similar to the "InDEED" program in Vail, Colorado, that would offer financial incentives to property owners in exchange for permanently restricting occupancy to people employed in Hailey or Blaine County.
Partnering with the private sector and local housing organizations, like the ARCH Housing Trust, to brainstorm ways to increase housing stock.
'Arsenal' of solutions presented
Councilwoman Kaz Thea said she believed the "best scenario" for the city would be financing the construction of new housing units and restricting rent based on occupants' incomes.
She gave the example of four rent-restricted homes in the Quigley Farm subdivision, which St. Luke's Health System, St. Luke's Wood River Foundation and ARCH Housing Trust began building for hospital employees last fall.
According to Horowitz, those homes will be rented out longterm to four hospital employees selected from a pool of 30 applicants. Each employee will pay 30% of their adjusted gross income—for a receptionist making around $35,000, for example, that would come to about $10,500 per year, or $875 per month.
One option recommended by Burke and Horowitz on Monday was partnering with the Wood River Community Housing Trust to buy a $120,000 tax-exempt "Employer Note," or a housing bond that would allow the city to place one employee in a two-bedroom unit in Woodside over the next decade.
Horowitz said the bond would have a "reasonable" 3% rate of return and the city could reinvest or pull the funds out for other purposes at the end of the bond's 10-year term.
She added that the bond offering from the Wood River Housing Trust—a relatively new nonprofit formed to bring community donors, banks and lenders together to invest in workforce housing—was "time sensitive," as other valley employers had their eyes on the opportunity.
"There is a good chance" that a handful of the city's 52 employees would be interested in the unit, Horowitz said, noting that several employees have expressed concern over their housing costs.
"I don't want to make the [Wood River Community] Housing Trust sit around and wait. I think we should move forward sooner rather than later on the bonds," Councilman Sam Linnet said.
Thea agreed. "I'd like to see us make a decision now," she said.
A second solution entertained by the council on Monday was a $50,000 housing reimbursement program that would launch in January. The council would have the option to renew the program or cancel it every year, Horowitz said. It would come directly out of the city's taxpayer-backed general fund.
Horowitz said the city would hire a third-party administrator—Boise-based firm The Housing Company—to assess employees' monthly housing burden by comparing their annual income with their monthly rent, rental insurance, utility, health insurance and childcare costs.
"The idea here is that employees would not be turning in their tax information to us, but to this independent person. Our goal is that employees would qualify if they are putting more than 30% of their gross adjusted income towards housing," Horowitz said.
To further incentivize employees to live within city limits, those with Hailey addresses would be reimbursed up to $400 per month, she said, and employees living within Blaine County could receive up to $300 per month. She added that applicants would need to complete "lots of" paperwork on an annual basis demonstrating their need, and the stipend program could function like a lottery if too many employees expressed interest.
Horowitz added that employees paying 30% of their adjusted gross income on mortgage payments would also be eligible for the stipend program.
Hailey Treasurer Becky Stokes noted that the city of Sun Valley has had a similar fund in place for "several years" and about 15% of its employees, both renters and homeowners, are enrolled in the program.
Councilwoman Husbands said she wanted make sure the fund would support renters only.
"It's a choice [to take out a mortgage], and you should know what you can afford. Just because the bank is willing to loan you a million dollars doesn't mean you should take it," she said. "Rentals are more out of your control. What you think you're getting into for $1,400, well, you turn around and next thing you know it's $2,800."
"It could be that you were married and had two incomes and now you're not. Things change in people's lives," she said. "This is showing that we are really trying to recognize there is this problem, and we're doing what we can to help."
Linnet said it didn't matter to him whether an employee was renting or owned a home.
"If you're employed with the city, and you're housing burdened, I'd like to have the option to help with that," he said. "This could take the edge off of housing costs for 10 to 14 employees—that's a lot more of an [impact] than the more expensive e-bonds.
"I'm in favor of a diversity of housing solutions, and this seems like just one more tool."
Husbands also said she was concerned that the $50,000 "pot" was too small.
"I understand what we're trying to do, but unfortunately this pot of gold is going to run out pretty fast. It's a temporary fix to a long-term problem. At least the e-bonds will run for 10 years," she said.
Horowitz said the council could decide to favor renters with the stipend program and move applicants with mortgages to a second-priority tier— "a good compromise," in the words of Councilman Juan Martinez.
"I'm on board with any partnership that is going to help people who are committed to working here," Martinez said. "I'm definitely for [the city] sharing the burden of community housing, and I applaud the mayor and staff for putting this together."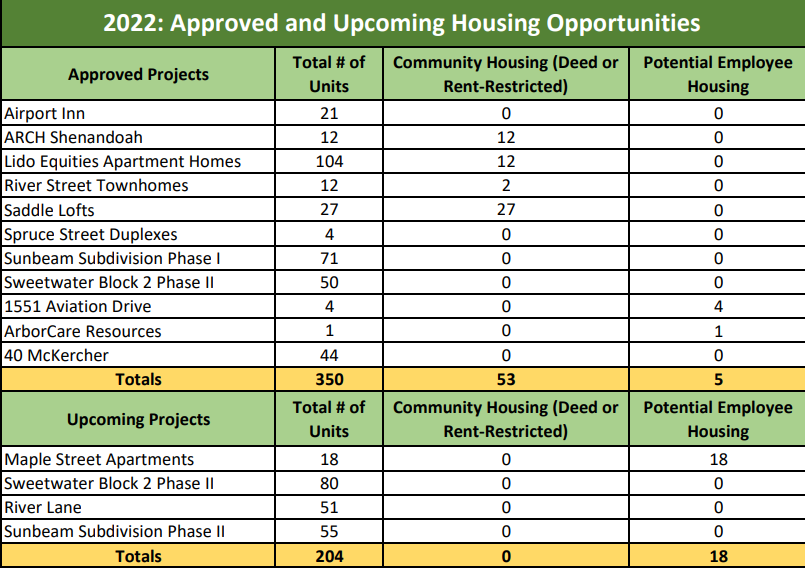 Council: Construction trends 'encouraging'
According to Horowitz, around 476 of Hailey's roughly 3,970 housing units—or 12%—are currently deed- or rent-restricted.
Of the 350 units approved in 2022 so far, she said she was "pleased" to share that 53, or about 15%, have been deed- or rent-restricted.
"That's one-seventh of the total units approved [in 2022]. To see that trajectory, huge developments trending higher, that's really encouraging for the city," Linnet commented.
Notable housing projects approved in 2022 include the following:
Lido Apartment Homes: 104 units
Sunbeam Subdivision, Phase One: 71 units
"40 McKercher" Apartments: 44 units
Sweetwater Community, Block Two, Phase Two: 50 units
Saddle Lofts: 27 units
River Street Townhomes ("410 River"): 12 units
Around 204 more units are currently in the construction pipeline, Horowitz said, including 80 more units at Sweetwater Community, 55 more units at Sunbeam Subdivision and 51 apartment units at "River Lane" on the corner of Spruce and Main Streets.
Eighteen additional apartment units are slated for the corner of Maple and South River streets.
"I'm very proud that we have been able to accomplish this. As far as the valley's concerned, we're ahead of the herd," Thea said.
Yet another idea presented by Burke was buying one of the two deed-restricted townhome units at the 12-unit "410 River" development on River Street, which would be offered to a city employee at 100% of area median income, or about $375,000.
(The remaining 10 townhome units are selling between $749,000 and $829,000, according to the development's website.)
"It's a lot easier to help subsidize housing to a certain level, than lose [employees] and have to retrain. In the long run, this is a bargain for us," Burke said. "The reason we're doing this is that these are the people who make our city work. They're our backbone.
"They're plowing our streets, taking care of our city parks, doing administrative work."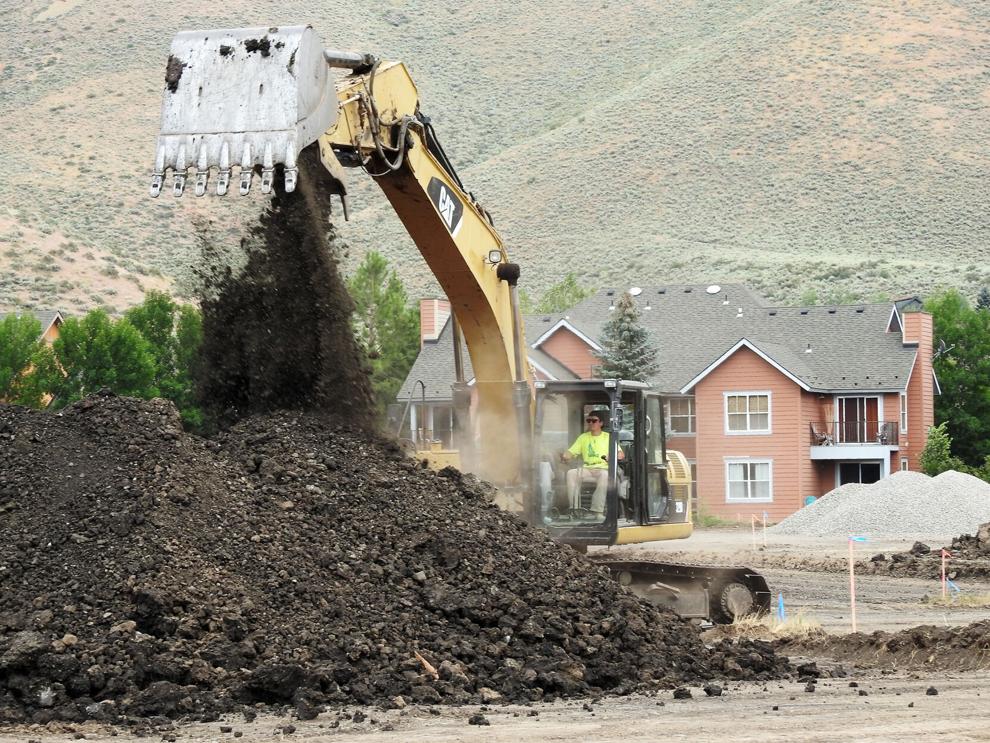 Other Hailey news: Council approves Sweetwater expansion, zoning change
Also on Monday, the council approved a preliminary plat application from Utah-based developer Kilgore Properties, initiating the second phase of construction on a 137-unit expansion of Woodside's Sweetwater Community.
The application asks to build 80 more units and accompanying infrastructure at the "Block 2" expansion site along state Highway 75.
Five 10-unit buildings between Maple Leaf Drive and Countryside Boulevard and seven live-work units on the corner of Countryside and Shenandoah—a total of 57 units—are now under construction as part of the first phase of "Block 2."
"I am looking forward to this next phase," Husbands said.
The council also agreed on Monday to expand the city's higher-density Downtown Residential Overlay district, or "DRO," from Main Street one block east to First Avenue.
The code change will keep the current underlying general residential zoning district intact at 525 N. First Ave., directly across from Myrtle Street, but add in the Downtown Residential Overlay—an additional zoning layer created by the Hailey City Council in 2018 to incentivize higher-density development.
The rezone request came from property owner "525, LLC," which owns four residential units along First Avenue and is looking to redevelop the property into higher-density multifamily housing in the future, according to the city.